Water Damage in Commerce
There's a lot to love about living near historic Commerce, Georgia. Even so, life in North Georgia comes with its own set of challenges, not the least of which is the temperamental weather.
From thunderstorms to freezing temperatures to the threat of hurricanes and tornadoes, homes and businesses in the Commerce area are under frequent threat of water damage. Water leaks through windows and foundations. Frozen pipes burst and flood your property. And those concerns don't even take into account non-weather-related catastrophes like toilet flooding.
Then, our humid summers promote mold growth in the damp areas left by the latest water incident.
In this region, water damage is real concern. You can't afford to waste time addressing the problem, and you can't afford to turn the problem over to a company whose services begin and end with water extraction.
At 911 Restoration of North Georgia, our water damage restoration experts offer comprehensive service. They don't just get rid of the water. They repair damages, patch leaks, and inspect for mold. They are even IICRC certified and trained for mold remediation.
You can depend on your dedicated water damage restoration specialists to arrive at your property within 45 minutes of your call, guaranteed. Even better, you can reach 911 Restoration 24/7/365. When your pipes burst in the middle of the night, you can rest assured that you won't have to leave the water seeping into your carpet and sheetrock until business hours, racking up your damages with each passing minute.
The staff at 911 Restoration also supports you through the insurance process, offering a free consultation to ensure that you fully understand your benefits. They'll file your claim for you and bill your provider correctly, so you don't have to worry about anything but looking forward to recovery.
We know how overwhelming water damage can be. Fortunately, we also know that any property disaster is an opportunity to rebuild better than ever. Call 911 Restoration of North Georgia, and let the expert water damage restoration staff give you a Fresh Start.
Emergency Flood Cleanup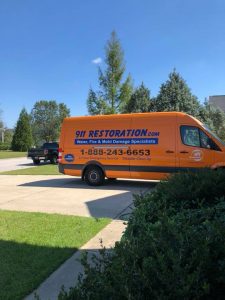 It's hard to think clearly when a burst pipe floods your property with gallons of water. The damage is instantaneous, and your mind scrambles to figure out how to stop the flood, which belongings to save first, and the big question: Can you even afford to rebuild?
The water damage restoration staff of 911 Restoration works to not only remediate your disaster, but also to put your mind at ease. They offer a free visual inspection for property owners, giving you a clear, immediate picture of the extent of your damages and what needs to be done to restore your home or business. They perform expert flood cleanup at an affordable cost, assist with insurance billing, and communicate every step of the way.
With compassionate water remediation techs on your side, it's not up to you to make sense of the damage.
They complete any emergency service you could possibly need, including storm repairs, roof repair, boarding up, pack-out and storage services to protect belongings, and—of course—water extraction. The water damage restoration specialists use professional fans to dry and dehumidify the property completely. They remove and repair damaged surfaces. They even handle mold inspection and remediation.
By the time they leave, your property will be better than new. You'll have true peace of mind, knowing they taken great care to completely resolve your water incident, from eliminating the problem that caused it to preventing future damages.
If you're facing a seemingly insurmountable water damage issue, 911 Restoration of North Georgia is here for you. Call us today and let our technicians shoulder the stress for you.
Mold Inspection And Removal In Commerce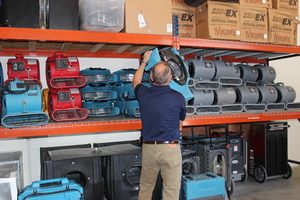 Water damage can become mold damage in no time at all. That's why the water remediation experts always include mold inspection as part of their comprehensive restoration service.
Once they have completed flood cleanup and repaired the water damages, the technicians inspect your property thoroughly for mold. They check every dark, hidden corner for signs of growth. If they find a colony, they take a sample to a third-party laboratory for testing.
Before they even begin mold decontamination, they'll be able to give you a crystal clear picture of your unique infestation. You'll know what type of mold you have, the risks it poses, and what the mold removal process entails. Then your water remediation techs will remove the mold from your home or business safely and completely, using professional tools and expert knowledge.
At 911 Restoration of North Georgia, we don't just aim to get the water out of your property (though that's certainly a major objective!). We strive to give every customer total peace of mind. To us, that means clear communication, rapid service, and genuine expertise.
Call us today and let our water damage restoration specialists turn your property disaster into a Fresh Start.
Servicing the cities of Alto, Athens, Baldwin, Bowersville, Bowman, Braselton, Canon, Comer, Commerce, Danielsville, Dewy Rose, Eastanollee, Elberton, Flowery Branch, Gainesville, Gamesville, Gillsville, Hartwell, Homer, Hoschton, Hull, Jefferson, Lavonia, Lula, Martin, Maysville, Nicholson, Pendergrass, Royston, Talmo, Toccoa, and surrounding area.