Water Damage in North Georgia
Weather Alert: If you are experiencing weather-related damage from the storm, call us today for emergency assistance!
911 Restoration of North Georgia
We understand that sometimes you need a helping hand to maintain your property, especially when water has flooded your business or when a tornado has ripped the roof off your home.
These may seem like extreme scenarios, but the truth is that water can invade your property very quickly, creating extensive damage that you simply can't manage on your own.
When you find yourself in one of these situations, 911 Restoration of North Georgia can be the company you trust to provide you with the services you need to make a completely recovery.
At 911 Restoration of North Georgia, we offer a Fresh Start with our comprehensive selection of property damage restoration services, including but not limited to:
Whether you're a North Georgia homeowner or business owner, 911 Restoration of North Georgia is your Fresh Start! We'll communicate with you throughout the entire process, help answer questions related to insurance, and restore your property to its pre-damaged condition. One of our IICRC-certified teams is dispatched within 45 minutes of your call! Contact us today, and one of our friendly representatives will assist you in finding the nearest North Georgia location.
Service area map
We are available 24/7/365 to take your emergency call, so you never have to wait for help if, for instance, a pipe burst floods your home in the middle of the night. For water-based emergencies, we guarantee to arrive within 45 minutes of receiving your call, fully prepared to get to work immediately.
You can feel confident in our licensed, bonded, and insured staff knowing that we work with IICRC certified technicians who are trained to restore both commercial and residential properties.
Getting you the help you deserve is our first priority. So, call our water damage restoration Commerce specialists the moment any disaster affects your property and we will prove to you just how dedicated we are to giving you a fresh start.
Jonathan McElhannon
"Highly recommend these guys for your cleaning needs. Kevin and Joshua pressure washed our brick house and driveways. They went the extra mile to do a quality job and make sure we were pleased with the results which exceeded my expectations."
Water Damage Restoration
The best way to completely mitigate water damage is by acting quickly. Whether your property is affected by a flood or a leak, the issue needs to be addressed right away in order to limit any residual damages that can occur.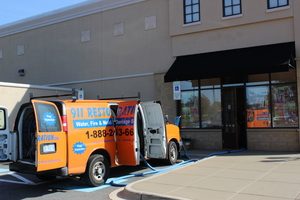 When water is left to stagnate, it can lead to mold growth and even structural damage. Rot and mold have the ability to destroy joists, drywall, and any organic materials that have been soaked through.
By extracting the water and removing all of the moisture from the air, we can greatly reduce the chances of experiencing these issues, as well as giving you a better chance of salvaging any water damaged possessions.
We act fast when we are notified of water emergencies and when we arrive we are completely prepared to immediately begin restoration services. So, call our water damage restoration Commerce technicians and we will get your home or business on the road to recovery.
Mold Removal
The climate in Commerce is generally warm and sunny, with enough moisture in the air, creating a great environment for mold to grow.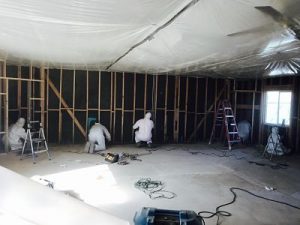 Mold needs food and water to multiply, and it eats organic material that is commonly found in commercial and residential properties, such as wood, paper, cardboard, and cotton.
By adding moisture to the situation, whether it is the form of a leak, floodwater, water damage, or humidity, mold can infest an area within 24-48 hours. The rate at which it can invade an area is unexpected, and is the reason why property owners need to call for remediation services as soon as they discover signs if mold.
We take mold infestations very seriously. Mold can prove to be a health risk if inhaled by  causing people to experience allergies, respiratory issues, and even fatal illnesses, in some cases.
To keep you safe, we test mold spores in order to determine exactly what species is growing in your property. So, call our mold removal Commerce team when you need expert decontamination services today.
Sewage Backup Cleanup
It goes without saying that dealing with sewage in your home or business is a dirty job. However, more than making a big mess, sewage can impact your health if you come into contact with it.
The safest bet is to stay completely away from the affected area and contact professionals to decontaminate the property. Do not attempt a cleanup effort on your own. In fact, if you can, you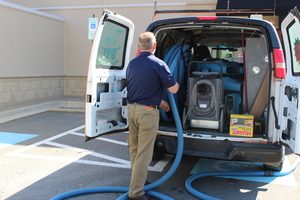 should make a barrier around the sewage to keep children and pets away from the substance.
When you hire our technicians, we will use the proper gear to safely and thoroughly remove every trace of sewage. We can also get rid of that awful smell that comes with a sewage backup, leaving your property both smelling and looking clean.
We act fast when sewage has invaded your property, because like water damage, when it is left to stagnate, it can cause residual issues, such as mold growth. By providing you with same day services we can prevent an infestation from occurring.
So, call our sewage backup cleanup Commerce unit to sanitize your property after a backup and we will work hard and fast to get the sludge out to keep you safe.
Fire Restoration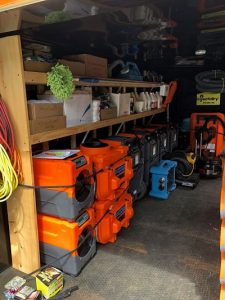 Fire and smoke have the potential to completely destroy a property in a matter of minutes. In fact, within five minutes of ignition a home or business can become entirely engulfed in flames.
If you are inside the property when a fire breaks out, all you need to focus on is getting yourself and everyone else in the building out fast. Once everyone is safely accounted for, then all you can do is call the fire department and wait.
The aftermath of a fire can be overwhelming. Even if your property is only partially damaged, the repair work required to restore it can be extensive. The good news is that we have years and years of working in the fire remediation industry, and we can repair any level of damage.
We will get rid of smoke stains, soot, ash, and tar, as well as any water damage that was created by the fire hoses. Our comprehensive services make us your go-to guys, because we can handle every aspect of the mitigation process.
Call our fire restoration Commerce professionals when you need thorough fire and smoke cleanup services and we will work hard to get your property back up and running as soon as possible.
Disaster Restoration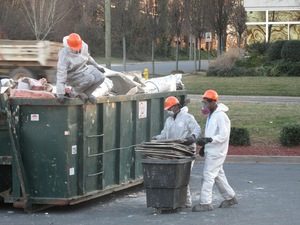 Georgia experiences enough natural disasters annually to make home and business owners think about prepping their properties ahead of time to protect themselves from their impact.
Hurricanes, tornadoes, torrential rain, flooding, and wildfires have all been known to influence Commerce, creating water and fire damage to commercial and residential properties in the area.
With weather this severe, even the most well-maintained properties can still become damaged by these disasters and end up requiring professional remediation services.
We understand how important it is to act fast in these situations, which is why we make ourselves available around the clock to take your calls. If you have water actively flooding your property during a hurricane, we will make every effort possible to brave the storm and get you the help that you need.
So, call our disaster restoration Commerce experts when you need remediation services and we will do whatever we can to give you a fresh start.
Serving the communities of Athens, Banks County, Commerce, Hall Countyy and surrounding areas.