Water Damage in Athens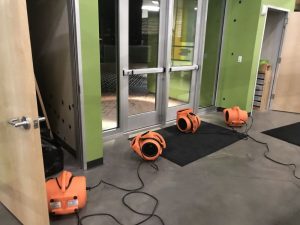 Between wild winter storms, hail, and the occasional hurricane, properties in Athens and the surrounding communities are at constant risk of property water damage. And those are just the threats posed by nature. Toilet flooding, foundation leaks, damaged roofs . . . these are all the immediate precursors to significant water damage.
Fortunately for property owners in North Georgia, help is one quick call away.
The phone lines of 911 Restoration of North Georgia are open 24 hours a day, 7 days a week, 365 days a year. We know the extent of your damage increases every second water is left to linger on your property. That's why the dedicated water damage restoration staff is on call, day or night. They even guarantee a 45-minute arrival time, so you're not left watching water seep into your carpets, wondering how bad it's going to get before the problem is resolved.
The water damage restoration technicians of 911 Restoration are highly trained and IICRC certified. They promise full property restoration—everything from leak detection and emergency roof repair to mold remediation. They even offer a free insurance consultation to help you understand which services are covered. Then, they file your claim for you.
Your friendly water remediation staff knows how hard you worked to make your property a place of peace and comfort. They know how devastating it can be to see your best efforts destroyed by an event beyond your control.
They know home flooding, sewage backups, and property leaks can be highly stressful situations, and that's why they work hard to get you back on your feet swiftly. Call us today for prompt service and complete property restoration.
Emergency Flood Cleanup In Athens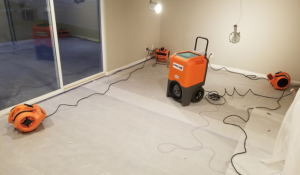 Have we mentioned that are our water damage restoration technicians act fast?
Well, they do. Not only that; they're also trained to manage any conceivable situation that might arise in a property water disaster. They offer emergency storm repairs, leak detection, emergency boarding up, and emergency pack out and storage services to protect your unharmed belongings before they come additional casualties of your property flood.
Flood cleanup services don't just include professional drying and dehumidfying, although they do that, too. They also inspect every square inch of the affected area for lasting water damage, from drywall to sheetrock to dark corners where mold spores are prone to land and thrive after a water exposure. Whatever destruction they find, they repair. It doesn't matter if "repair" means replacing drywall or removing mold. They're qualified to handle all of it.
If you feel overwhelmed by the damages caused by property flooding, we have good news. Total water damage restoration is easier than you think. You don't need separate companies to handle flood cleanup, home repair, and mold removal. You just need one compassionate restoration team staffed with highly trained, well rounded technicians.
That team would be 911 Restoration of North Georgia. Call us today.
Certified Mold Inspection and Removal
A mold infestation is not a problem for later. If there's a colony thriving anywhere on your property, you need trained professionals to take care of the issue immediately.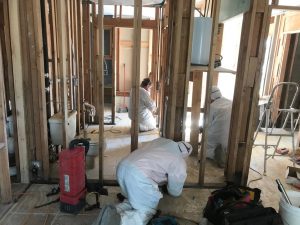 Mold grows and spreads quickly, especially in the humid climate of North Georgia. Mold releases spores into the air, and those spores can cling to any damp surface and spawn a new colony in 24-48 hours. If one colony is allowed to linger, it doesn't take much for the infestation to spread.
Mold damage can be expensive, not to mention harmful to your health. Toxic varieties like black mold release mycotoxins that can enter your body through your breath. A build up of mycotoxins creates a state of toxicity in your system, leading to health issues like allergies, headaches, dizziness, and even respiratory and heart problems.
Your dedicated water damage restoration specialists understand the threat of mold, and that's why they proactively inspect for mold after a flood cleanup or other water damage service. In fact, they offer a free visual inspection for property owners, as well as mold sampling. They are also IICRC certified and trained in mold remediation. If they discover an infestation, they have all the necessary tools and knowledge to remove the mold quickly and safely, without kicking an excess of spores and toxins into the air.
When your property is struck by burst pipes, a leaky roof, or a sewage backup, don't settle for a company that will just remove the water and walk away. Call 911 Restoration of North Georgia, and let our expert technicians give you a Fresh Start with a property that feels brand new.
Servicing the cities of Alto, Athens, Baldwin, Bowersville, Bowman, Braselton, Canon, Comer, Commerce, Danielsville, Dewy Rose, Eastanollee, Elberton, Flowery Branch, Gainesville, Gamesville, Gillsville, Hartwell, Homer, Hoschton, Hull, Jefferson, Lavonia, Lula, Martin, Maysville, Nicholson, Pendergrass, Royston, Talmo, Toccoa, and surrounding area.