Sewage Backup Cleanup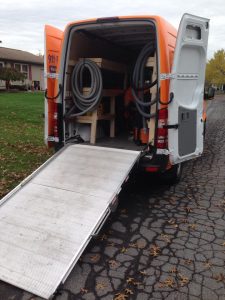 There are three different categories of water that are in order of toxicity, with sewage being classified as a category three water. Also known as black water, sewage is the third and most toxic water due to its high levels of bio hazard waste, bacteria, and other chemicals.
When sewage spills into your property, the health risks that it poses are dangerous enough for 911 Restoration to warn you to not touch it, no matter how tempted you may be to attempt a cleanup on your own.
Instead, keep away from the black water, create a barrier to keep children and pets away, and call us right away. We are available 24/7/365 to assist you the moment you need clean up services.
Acting fast is the best way to ensure a complete recovery, so we never will make you wait long for help. In fact, we guarantee that technicians will arrive at your property within 45 minutes of receiving your call.
We work with IICRC certified professionals who are trained to cleanup sewage damage from commercial and residential properties. So, call our sewage backup cleanup Commerce unit today and we will get the remediation process started with a free visual inspection.
Prevent Sewage From Backing Up In Your Property
Whether you own a residential or commercial property, undergoing a sewage backup can be a difficult situation to recover from due to toxic nature of the substance.
Not only does the sewage make a huge mess. but if you own a business, it may require you to close until the property is sufficiently decontaminated. This can end up being very costly, not to mention stressful.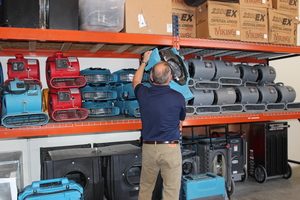 To avoid a sewage backup altogether there are steps you can take to protect your home or business.
By installing a one-way drain plug in your basement you can prevent black water from backing up into your property from an overloaded sewer. There is a float mechanism attached that will reopen the drain once the sewer is repaired.
A standpipe is another mechanism that can be installed to prevent backups. This is a regular pipe that is surrounded by a rubber seal that you put in the floor drain. If a city sewer begins to backup, the sewage will go into the pipe instead of overflowing into your property.
There are also things you can personally do to stop a sewage overflow. By simply not flushing items down the toilet that do not belong there you will greatly decrease your chances of a sewage overflow. The rule of thumb is basically to not flush anything except toilet paper, especially paper towels, baby wipes, diapers, and sanitary napkins.
Even if you are careful, black water can still spill into your property and when it does we urge you to call 911 Restoration of Commerce right away so we can begin the cleanup effort.
Understanding Sewage Cleanup Insurance Coverage

Sewage damage is different than water damage, as far as insurance providers are concerned, because coverage is all based on how the backup was started.
In some standard insurance policies sewage damage coverage is included, but they can be limited and contain many exclusions. For example, if they decide that  the backup was caused due to negligence by the property owner, then they will not pay for the repair costs.
Sometimes the insurance policy will only pay for partial repair work, leaving you to pay out of pocket to cover the rest, which can still end up being tens of thousands of dollars.
The best way to ensure that you have complete coverage for any type of sewage disaster that may occur on your property is to purchase a supplemental insurance policy that deals entirely with sewage damage, similar to a flood damage policy.
We have worked with many different insurance providers over the years and can help you with any questions you may have about your policy or your claim. So, give our sewage backup cleanup Commerce experts a call today and we will do whatever we can to give you a fresh start.
Serving the communities of Athens, Banks County, Commerce, Hall Countyy and surrounding areas.