Water Damage Restoration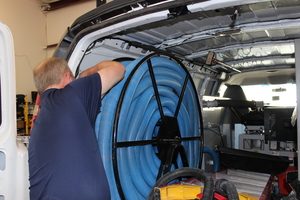 Many people may not realize just how powerful water can be until they have experienced a flood or major leak in their property and witnessed the water damage created.
Whether the damage is caused by a storm or pipe burst, water has the ability to quickly invade a space and destroy anything in its wake.
911 Restoration of North Georgia understands just how important it is to act fast when dealing with water-based emergencies, so we stay available 24/7/365 to serve you.
We stay open around the clock to make it possible for you to call us the moment you experience a water disaster. We urge you to contact us right away so we can send technicians to your property within 45 minutes of receiving you call.
In order to give you the best service possible we work with IICRC certified technicians who are trained to remediate water damage from both commercial and residential properties.
So call our water damage restoration Commerce experts the moment your home or business is affected by a leak or flood and we will work hard to give you a fresh start!
Be Prepared For Flooding Caused By Hurricanes
It is common for hurricanes to roll through Commerce throughout the year. For 2018, researchers have predicted that Georgia should experience 14 severe storms between June and November, with seven of them expected to become hurricane strength.
Knowing the magnitude in which a hurricane can hit a city, property owners need to take these predictions seriously and prepare their homes for the damage that these storms can create.
The garage is a very important part of a property to protect. It is the most vulnerable area, because if the powerful winds of hurricane blow into the garage, it can create enough pressure to literally blow the roof off. By reinforcing your garage, your property will have a better chance of staying in one piece during a hurricane.
You can also purchase and install hurricane clips to your roof, whether it is residential or commercial. They are made from galvanized steel and work by connecting the top plate to trusses or rafters, significantly increasing the strength of connection between the roof and the foundation.
Storm shutters are another form of protection that can prevent your windows and sliding glass doors from breaking during a hurricane or severe storm. You can purchase pre-made shutters or use a thick plywood to board up any glass areas in order to stop wind and debris from crashing through.
Even after taking all these measures, your property can still become damaged by a hurricane. If water or wind affects your home or business, call 911 Restoration of North Georgia and we will make sure that you get the help that you need.
Water Damage And Insurance Coverage
Hurricanes can cause falling trees, torrential rainfall, property floods, and flying debris, all which can impact your property by creating severe water and structural damage.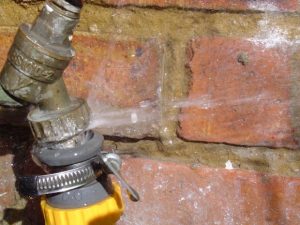 The financial burden that storms can cause on a home or business is too much to pay out of pocket and will require you to contact your insurance company to make a claim.
Standard insurance policies will cover various aspects of the damage caused by a storm, but other issues may require a supplemental insurance policy to provide you with complete financial coverage.
Your coverage all depends on the type of damage and how it was caused. Where you live may also make a difference in your coverage. If you live in a high risk area your policy may have exclusions for flooding and wind damage.
In order to make sure you are completely covered for all instances of water damage, flooding, wind damage, and structural damage, you should contact your insurance provider and discuss all your options.
Our water damage restoration Commerce professionals have worked with many different insurance providers over the years. So, if you need any help with your insurance claim call us and we will happily assist you.
Serving the communities of Athens, Banks County, Commerce, Hall Countyy and surrounding areas.