Water Damage and Mold Removal in Banks County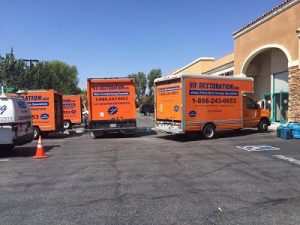 Property owners face a range of issues in their day to day maintenance. Everything from the bills to the lights to necessary repairs are required of the owner to take care of. Another issue they have to take care of is property damage. Property damage comes in many forms, but the most common is water damage. Burst pipes, broken sprinklers, and overflowing toilets are all sources of water damage that can befall a property. A prompt response is required when water damage occurs, which is why calling the experts at 911 Restoration of North Georgia should be your first move.
Because emergencies can happen at any time, our crew is available 24/7/365 to handle all of your water damage restoration needs. We promise to be there within 45 minutes of receiving your call so you can rest easy knowing that prompt attention is being given to your water damage.
In addition to the water damage itself, it can also lead to mold contamination. A mold infestation occurs when parts of your home is dark and damp for too long. Mold eats away at organics and affects the health of occupants within the property. Should you ever suspect mold, don't wait to call the mold removal experts at 911 Restoration of North Georgia to begin your mold remediation right away.
All of our technicians are IICRC certified and trained to handle all of your emergency restoration needs. Whether you need mold removal or smoke restoration, our crew is ready to assist you.
Managing Your Water Damage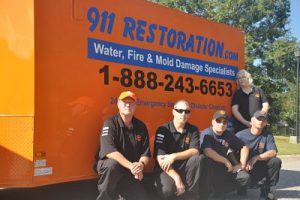 They key to navigating your water restoration lies in managing your water damage. Before you do anything else, get the source of the water damage stopped. This way the water levels won't be able to keep rising. Once that is done contact the water restoration experts at 911 Restoration of North Georgia to get the process started with a visual inspection.
Once the level of damage has been assessed, we can begin the water extraction to get your property completely dried out. The sooner the extraction can be completed, the less likely that a mold infestation will occur due to the excess water. Whether it's your home or your business we move quickly to manage your water damage so you can get back to normal as quick as possible.
Full Service Mold Remediation
Mold removal is a delicate but simple process as long as it's properly handled by mold remediation professionals like our team at 911 Restoration of North Georgia. Normal cleaning methods only agitate the mold and causes the mold spores to travel in the air, which can spread the area of contamination.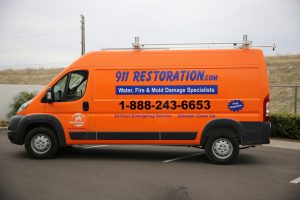 Mold is harmful in two ways for property owners. The first way is the damage your property itself can experience. Common sources of damage include rotting wood, crumbling drywall, and the degradation of any other organic material like your insulation. Repairs can be costly if the mold removal is not handled appropriately. The other way mold harms is through the health of the occupants.
Even if the mold is not toxic, mold can cause headaches and breathing problems in otherwise healthy people. A telltale sign of a mold infestation is a strong musty odor, so if you're noticing that sign don't hesitate to call the mold removal crew from 911 Restoration of North Georgia. Because we take your health seriously we use methods that contain and quarantine the infected area so that your health is never at risk while we work on your mold removal.
We operate locally so that we can guarantee arrival within 45 minutes of receiving your call. Whether you live in Baldwin or in Homer, we have you covered. Plus, we use only the latest techniques and equipment for all of your emergency restoration needs so you know that the job is being done right from the very first moment. We promise that with us your property will look like nothing ever happened to it in the first place.
Proudly serving Banks county and the surrounding cities:
Baldwin

Commerce

Homer

Maysville